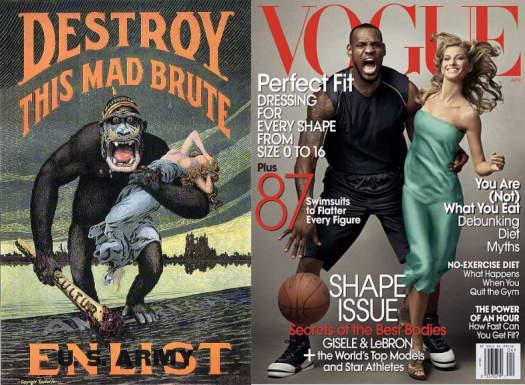 WWI Military Recruitment Poster next to 2008 Vogue Controversial Cover with Lebron James and Gisele Bundchen
Actor/Writer Darryl Dillard on the Great War's Influence for Black Male Actors Today
WWI was the war to end all wars (or so we thought). It came at a time when America was still dealing with a struggle of equality in its own walls.

To prove loyalty to the country and gain respect, blacks volunteered in droves to join the war and fight for their country side by side with whites. They wanted to be equals, willing to fight. They also believed this was their chance to be seen just as human as a white person. Slavery had been officially abolished, but that did not stop the mistreatment of blacks. Abuse and lynching continued despite new laws. Most whites thought blacks were not humans, but animals, and much less intelligent than whites.


Circa 1920 advertisement for frozen dessert. Used by Spike Lee for 2000 film poster, Bamboozled, in which a African American T.V. writer proposes a minstrel show in blackface. To his chagrin, it becomes a hit.The media of the time legitimized these thoughts and beliefs. Blacks in mainstream media were nonexistent except for white actors in black face. Al Jolson was the most prominent. His image was used for ads portraying blacks as less human than whites—as animalistic. This representation of blacks as animals continued in films such as D.W. Griffith's 1915 "The Birth of a Nation," in which the good Christian men tried to protect their community from the scourge of the black man. Dressed in white sheets, they tracked down an aggressive black man, played by a white actor in blackface, who was destroying their town and raping women, to kill him. Another scene from the time has a white woman jumping off a cliff to keep from being taken by a black man. Again, the actor was white, in blackface.


These examples helped establish the idea that the black man must be kept down or killed. The only way for the black man to continue in film, according to the media, was to be entertaining and funny for white people. The shuck and jive type acts were popular. But again, instead of actual black actors, white actors in blackface performed the roles. Whites kept what they liked about blacks and their style in performances, but it was only to satisfy and confirm the stereotypes they already held.

The image of animalistic blacks in the WWI era also appeared in propaganda. During WWI, to recruit more soldiers for the war, posters and campaigns portrayed gorillas as enemies. At the same time, the media frequently used gorilla imagery to symbolize blacks. The Hun, who raped Belgium women and stuck bayonets through babies, was a bad, black man.
White actor, Al Jolson, performing in blackface

This propaganda contributes to Willie Lynch-type media issues blacks deal with today in their communities. Willie Lynch was a slave owner in Virginia who is said to have given a speech in Virginia in the 1700s that instructed masters to pit slaves against one another according to such criteria as age, skin color variation, ability, and sex to keep them on plantations instead of using lynching threats. Basically, the idea was to build mistrust and fear among the slaves themselves to keep them physically strong, and, as a result, mentally weak. This syndrome, called the "Willie Lynch syndrome" has been perpetuated today in the black community regarding the military— a mentality exists that equates joining the military with a way of getting instant respect and honor for being a real, strong man. It creates what some might call the Willie Lynch-style competition. Damned if you, damned if you don't. To me, it's ironic to note that WWI posters portrayed the German as a black brute while blacks were allowed to fight alongside whites in some of the biggest battles of the war, such as the Meuse-Argonne. Even more troubling—they weren't even recognized until much later.
Lynching scene from 1915 film, The Birth of a Nation. White actor playing villain in blackface
I believe that WWI racist images and mental sabotage persist in today's media. While they may appear subtle, they are very powerful, and easy to fall prey to if you do not know history. The images at the beginning of this post serve the as potent examples. For me, it's not a coincidence that these images are almost identical. Vogue in 2008 seems to have been turned a blind eye to the racist part of the 1917 poster, which is to my eye, oblivious. Some say Vogue was benignly comparing Le Bron James to King Kong, not an evil –German- gorilla- black man. But even so, King Kong films have strong racial overtones.

Looking at this poster makes me understand that perhaps we have not come so far from WWI in the portrayal of the black man in modern media. The black man is still feared by many and images that coincide with this fear justify prejudice.

That's why, as a black, male actor, I decided to make and write the film, The Real Man (watch Trailer for The Real Man here) with Cathy Reinking, producer, director, writer, casting director, and coach. The Real Man, directed by Reinking, tells the story of a black actor who vows to only play uplifting roles. After discovering he can't make a living this way, he decides to break his own rules and accept negative stereotypes as well as one-dimensional parts. As he becomes successful with each new dark role, he begins to jeopardize the strong relationship he has with the love of his life, Laura, who is white.

The Real Man, the film by Darryl Dillard and Cathy Reinking

To talk a bit about this project, I will reprint an extract from an interview with Cathy Reinking and me, conducted by the site ConciergeQ.:

Cathy Reinking: The seeds for this story were planted years ago when I watched Robert Townsend's Hollywood Shuffle for the first time. As a Hollywood casting director (Frasier, Arrested Development) for 22 years, I've been on the front lines of stereotyping and media images and frankly has been disturbed for some time now. I have so many actor friends who are intellectual and sensitive and yet only get called in for the role of 'Security Guard,' 'Drug Dealer,' or 'Gang Member' because that's a lot of what's out there for black artists.

Darryl Dillard: As artists, our attention is now toward telling our own stories, which are personal and yet also examine media images and their power and influence in the world.

ConciergeQ: What are some of the overriding themes of the story?

Darryl Dillard: Self-Knowledge and how easily you can be swayed into being someone you are not if your sense of self is not strong. When you really don't know who you are, you can be pushed into anything. And that's what happens to 'Donny' (the lead character in the film). He gets lost in the stereotype characters the film Industry is paying him to be and it changes him for the worst. Often, there's a huge disconnect with the way a person sees themselves and the way the world tells them to be. Another theme is the big, grand illusion of Fame. Everyone wants it. It's the fantasy of a perfect life. But that's all it is, a fantasy. Fame and fortune will not solve all of your problems and, in fact, might make them worse, especially if your self-esteem and self-knowledge to begin with aren't solid.

Cathy Reinking: Sometimes that dream job can be a nightmare. (Read the full interview here ConciergeQ Interview)

In The Real Man, and in the other work I do as a writer and artist, I can't redo WWI imagery, but I do seek to counteract the history of negative representation of the black man in the media. (See The Real Man GoFundMe site here)
Author's Bio

Born in North Carolina on a Marine base, and raised in Maryland, Darryl Dillard has always been a performer. From singing for his family, to participating in children's Christmas shows, he started entertaining at an early age. After spending time "playing" on the football field, he returned to acting in college, where his love of performance and creating blossomed. It was there he understood that he wanted to make a life out of these passions. After spending time in New York, he decided to move to LA. There, he realized that he needed to use his talents to make meaningful changes in the world's skewed perceptions of different kinds of people. Today, Darryl has become an award-winning screenwriter, actor, producer, director, and activist. Acting credits include: Private Practice, Along Came a Spider, High Yellow, Lunch Interrupted, Then I'll Rest, Death Date, The British Invasion, and The Real Man.
---