Writers in the WWI Centennial Commemoration Ceremony in Kansas City and Gulf War Veteran Writer Seth Brady Tucker 

Scene from ceremony, In Sacrifice for Liberty and Peace: Centennial Commemoration of the U.S. Entry into World War I
WWI Soldier-Writers were  "...brave in words. In this, they did not shirk their responsibilities, in this they did not turn away from the horrors, the obscenity, the awful trench warfare that gifted some of them to us as martyrs, returned some of them to us broken and ill-used but willing to speak of war honestly." 
—Seth Brady Tucker
The quote comes from this Week's WWrite Featured Post: "Dulce et Decorum Est"-Gulf War Veteran Seth Brady Tucker: Discovering WWI Poetry in an Iraqi Foxhole" This week's WWrite Blog, the first in the official WWI centenary year features Seth Brady Tucker (photo, left), Gulf War veteran and writer, author of the award-winning poetry collections about war veterans, Mormon Boy (2012) and We Deserve the Gods We Ask For (2014). Tucker gives us "Dulce et Decorum Est: Discovering WWI Poetry in an Iraqi Foxhole." Tucker talks about how he discovered WWI poetry–He first read "Dulce et Decorum Est," by Wilfred Owen...in an Iraqi foxhole. Thus began Tucker's lifelong commitment to reading and writing poetry about war. In his post, he says he learned that Owen and all other WWI soldier poets were"...brave in words. In this, they did not shirk their responsibilities, in this they did not turn away from the horrors, the obscenity, the awful trench warfare that gifted some of them to us as martyrs, returned some of them to us broken and ill-used but willing to speak of war honestly." Don't miss this eloquent tale about writing and war.
Tsingtao - Next Week's Post Think Tsingtao is just a tasty Chinese beer? Think again! Learn about the Siege of Tsingtao/Tsingtau with next
week's blog post, which features James Madison University Roop Distinguished Professor of English, Member, Historical Advisory Board of the World War I Centennial Commission, WWI scholar, and writer, Mark Facknitz, who broadens the American perspective of WWI participation with an impressive photo essay about his German grandfather's internment in a Japanese prisoner of war camp from 1914-1919. The post displays, for the first time, rare photos from the Japanese/Chinese front and the Siege of Tsingtao/Tsingtau. (Photo, left). Don't miss this disarming tale from a small corner of the Great War.


Writing a Centerpiece at the WWI Centennial Commemoration Ceremony in Kansas City on April 6th On April 6, 1917, the United States officially entered World War I, a war that changed the nation and the world forever. On April 6, 2017, thousands in attendance, as well as those watching video across the nation and around the world, joined the United States in commemorating this turning point in our nation's and the world's history with the "In Sacrifice for Liberty and Peace: Centennial Commemoration of the U.S. Entry into World War I" ceremony, hosted by the United States World War One Centennial Commission at the National World War I Museum and Memorial in Kansas City, Missouri.

This international ceremony consisted principally of the reading of passages from significant and representative American writings of a century ago about the U.S. decision to enter the war, including selections from speeches, journalism, literature, poetry, and performance of important music of the time. A few of the writing highlights were*: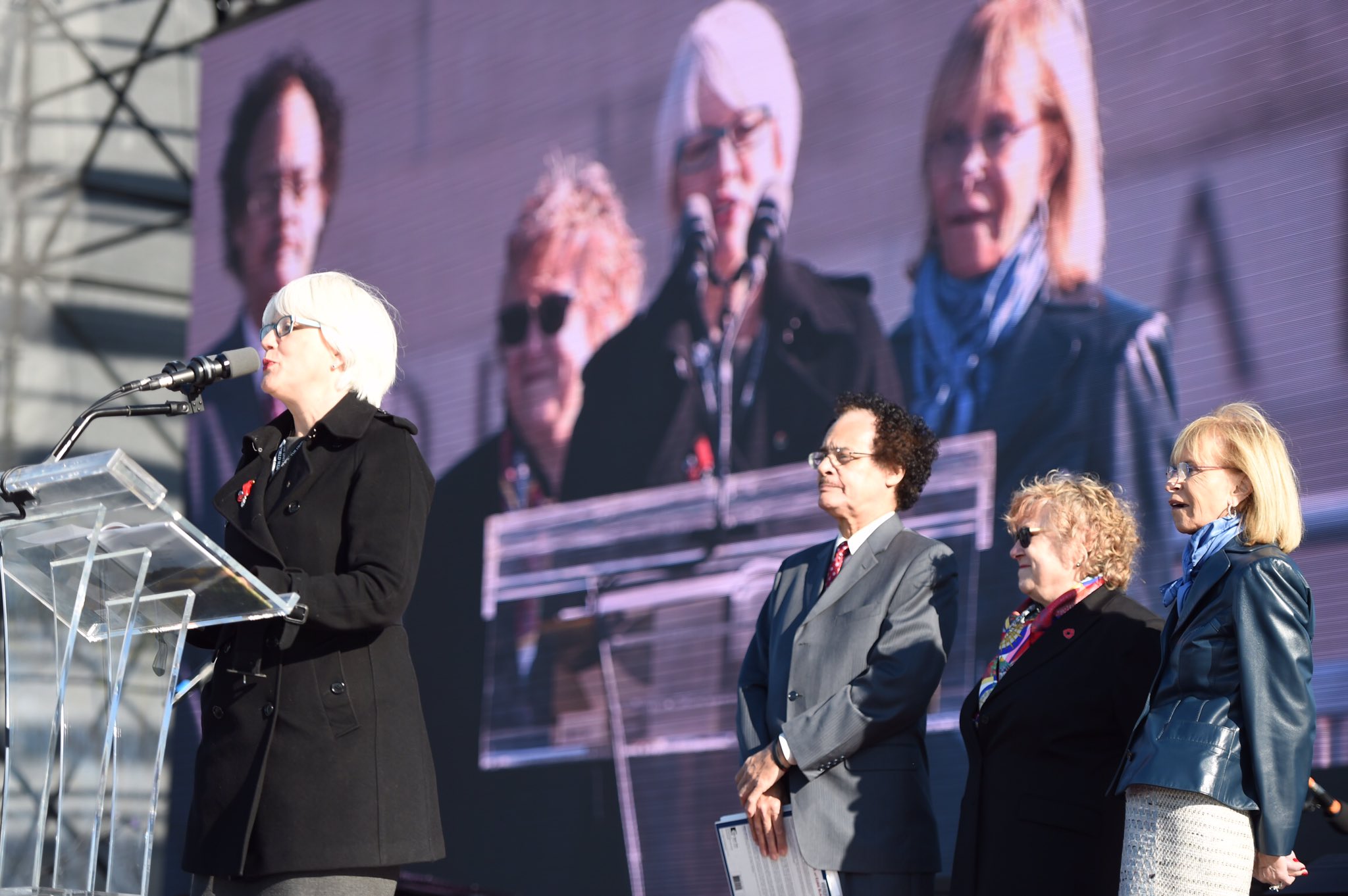 Helen Patton, granddaughter of General George S. Patton, Reads WWI Poem by Grandfather and Sings "Rain on Your Old Tin Hat" by Lt. John Hunter Wickersham When George S. Patton served as Lieutenant Colonel in the Meuse-Argonne during WWI, he wrote a poem, "For Our First Dead," that was read by his granddaughter, Helen Patton, who opened the commemoration ceremony in Kansas City. Patton's poem was dedicated to the first four fallen American soldiers in France. She also sung Lt. John Hunter Wickersham's poem, "Rain on Your Own Tin Hat," which was featured in Connie Ruzich's blog post on WWrite. (Helen Patton speaks at WWI Ceremony, left).
Noble Sissle Jr. Reads from Unpublished Memoir about James Reese Europe and 369th Harlem Hellfighters
Band Noble Sissle Jr., the son of jazz legend, drum major, and member of the 369th Harlem Hellfighters Band, Noble Sissle, read from his father's unpublished memoir about James Reese Europe. Europe led the leader of the famous band. The Harlem Hellfighters, officially known as the 369th Regimental Band, were the the first African American regiment to fight in WWI. They played at the funerals of many WWI soldiers, introduced the sounds of American jazz to Europe during the war. (Noble Sissle, photo, right).
WWI Poems and Other Writings Frame Ceremony Music Compositions The ceremony featured an almost-continuous concert of music from the WWI era: ragtime, jazz, military marches, songs, and classically-composed pieces. The reading of poems and other writings were juxtaposed with the bittersweet tunes. The readings included, among others, a Native American blessing, a poem by Belgian Emile Verhaeren's "To the Man I Used to Be," excerpts from Barbara Tuchman's The Proud Tower and from the writings of W.E.B. Du Bois. (Left, photo from WWI ceremony).
To view the entire ceremony, click hereIn Sacrifice for Liberty and Peace: Centennial Commemoration of the U.S. Entry into World War I
*text adapted from ceremony write up at http://www.worldwar1centennial.org/index.php/sacrifice-about.html