Details

Category: WWrite articles main
Hits: 5561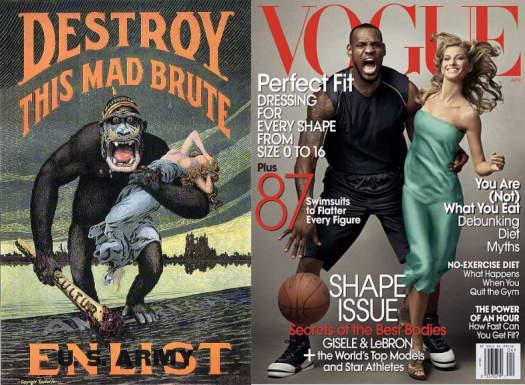 WWI Military Recruitment Poster next to 2008 Vogue Controversial Cover with Lebron James and Gisele Bundchen
Actor/Writer Darryl Dillard on the Great War's Influence for Black Male Actors Today
WWI was the war to end all wars (or so we thought). It came at a time when America was still dealing with a struggle of equality in its own walls.

To prove loyalty to the country and gain respect, blacks volunteered in droves to join the war and fight for their country side by side with whites. They wanted to be equals, willing to fight. They also believed this was their chance to be seen just as human as a white person. Slavery had been officially abolished, but that did not stop the mistreatment of blacks. Abuse and lynching continued despite new laws. Most whites thought blacks were not humans, but animals, and much less intelligent than whites.


Circa 1920 advertisement for frozen dessert. Used by Spike Lee for 2000 film poster, Bamboozled, in which a African American T.V. writer proposes a minstrel show in blackface. To his chagrin, it becomes a hit.The media of the time legitimized these thoughts and beliefs. Blacks in mainstream media were nonexistent except for white actors in black face. Al Jolson was the most prominent. His image was used for ads portraying blacks as less human than whites—as animalistic. This representation of blacks as animals continued in films such as D.W. Griffith's 1915 "The Birth of a Nation," in which the good Christian men tried to protect their community from the scourge of the black man. Dressed in white sheets, they tracked down an aggressive black man, played by a white actor in blackface, who was destroying their town and raping women, to kill him. Another scene from the time has a white woman jumping off a cliff to keep from being taken by a black man. Again, the actor was white, in blackface.
Read more: Actor/Writer Darryl Dillard on the Great War's Influence for Black Male Actors Today